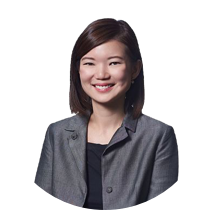 Grace Chiong
Group COO
Previous Experience: Morgan Stanley, Merrill Lynch, Citibank, Cambridge Associates
Grace's broad experience in client services, regulatory compliance, project management, as well as operational roles in global private banks and investment consultancy, positions her to manage the fast-growing business of Golden Equator. Being part of the founding team of the group gives her good perspective on the exciting and challenging journey of startup companies.
As the Chief Operating Officer of Golden Equator, Grace leverages her ability to interact with and cater to a wide spectrum of cultural and team dynamics to successfully identify and align the company's overall business goals.
Prior to joining Golden Equator, Grace was with Morgan Stanley Asia where she was a Business Manager of Private Wealth Management. There, she supervised a team of Private Bankers and Client Associates relating to policies and client management. She started her career in Citibank as a Management Associate, before moving on to Cambridge Associates Asia, and the Global Wealth Management arm of Merrill Lynch International Bank.
Grace graduated summa cum laude with a Bachelor of Business Management from Singapore Management University, majoring in Finance and Economics.