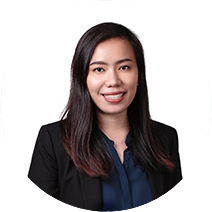 Joyce Tu
Analyst
Previous Experience: Bando Singapore, Oomoriya, Taipei City Government
Hailing from Taiwan, Joyce developed a keen interest in holistic wealth advisory while pursuing her Bachelor's Degree in Banking and Finance from Monash University.
Prior to joining Golden Equator Wealth, she worked closely with clients in her previous sales and market research role, developing strong relationship management skills.
In her role, Joyce builds relationships with industry partners and global advisors to enhance our extensive network that we operate in, while supporting our Family Office Advisors to provide well-rounded independent advisory.
Beyond work, Joyce enjoys playing the piano, and preparing tantalising dishes to share and bond with her friends and family.