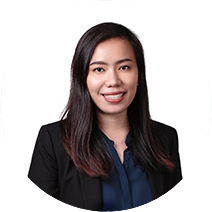 Joyce Tu
Assistant Wealth Manager
Previous Experience: Bando Singapore, Oomoriya, Taipei City Government
Hailing from Taiwan, Joyce developed a keen interest in the field of wealth management while pursuing her Bachelor's Degree in Banking and Finance from Monash University.
Prior to joining the company, she enjoyed working with clients in her previous sales and market research role. Inspired by taking a client-centred approach and a personal interest in the financial sector, she decided to relocate to Singapore and embark on a career in wealth management with Golden Equator Wealth.
In her role, Joyce supports the Wealth Managers to provide professional portfolio advisory services that help clients – and their families – grow and preserve their wealth for lasting legacies.
Beyond work, Joyce enjoys playing the piano, and loves to prepare tantalising dishes that can be shared with friends and family.