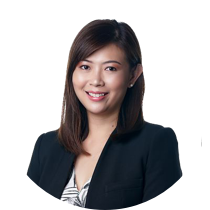 Lynn Lee
Director, Wealth Manager
Previous Experience: Credit Suisse, Citibank, AT Asset Management
Lynn joined Golden Equator to continue providing holistic investment and succession planning solutions to high-net-worth clients. She brings extensive experience from a Swiss private bank where she specialised in servicing clients in the Greater China region.
Lynn prides herself on having a deep understanding of her clients' financial needs, providing them with sound investment advice while providing counsel on legacy planning solutions, against the backdrop of ever-changing financial and regulatory landscapes. Her fluency in Mandarin and Cantonese also helps her to communicate effectively with clients in the Greater China Region.
Lynn has two lovely children with whom she enjoys spending quality time with; be it reading a book together or exploring new recipes for the next family gathering.