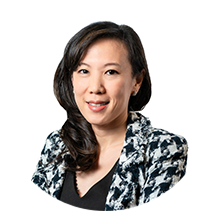 Patricia See
Family Office Advisor
Previous Experience: DBS, MIRAE Asset Securities (Hong Kong), Morgan Stanley Asia and UBS
Patricia brings to the firm over two decades of industry experience at Morgan Stanley, UBS and DBS Vickers specialising in capital markets, financial intermediary and Asian equities advisory servicing global institutions, sovereign wealth funds and family offices. Prior to that, she was a strategic business consultant for corporate strategy at a family office where she developed strategic relationships with other family offices to co-develop regional real estate projects.
In her social and family circles, the financial markets are seldom far from her daily discourse as her father was a veteran in the boutique asset management industry spearheading the nascent local independent and hedge fund ambitions.
As a Family Office Advisor, Patricia focuses on her strengths to drive business development initiatives for client families – leveraging her direct knowledge of complex family office needs, her network, and extensive investment experience value add to family office clients.
As someone who appreciates the great outdoors, Patricia enjoys hiking and skiing. She has led wellness retreats in Niseko, Japan as part of her efforts to promote women's wellness.