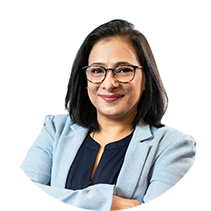 Ritu Khera
Family Office Advisor
Previous Experience: BNP Paribas Wealth Management, Barclay's Wealth, ABN AMRO Bank N.V., ICICI Bank
Ritu Khera is Family Office Advisor at Golden Equator Wealth where she focuses on growing current and new client relationships.
She has close to 20 years of experience in the wealth management industry and has worked in major private banks in India, the UK, Hong Kong, and Singapore.
Before joining Golden Equator Wealth, she spent more than four years with BNP Paribas Wealth Management working in both Hong Kong and Singapore where she focused on Non-Resident Indian (NRI) clients. She has built a strong reputation for supporting ultra high net worth clients and facilitating bespoke deals across the bank.
Ritu spent six years with Barclays Wealth's international private banking arm in Singapore working with UHNW individuals and families to deliver solutions for both personal and business interests.
Now a Singapore PR, Ritu graduated in India where she started her career in the corporate world before embarking on her journey in finance. She joined ICICI Bank in 2003 developing her relationship skills in India and the U.K. She moved to ABN AMRO Bank and relocated to Singapore in 2005 as a relationship manager focused on NRI clients.
Beyond her work in the wealth management industry, Ritu likes travelling and learning about different cultures to broaden her perspectives. She also enjoys spending time with her family, painting landscapes, and is always on the lookout for opportunities to serve the community and mentor new talents.