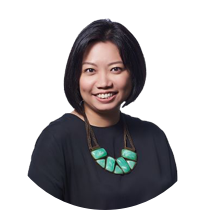 Grace Lim
Family Office Advisor
Previous Experience: Citibank, DBS, OCBC
Grace brings to her role deep experience in client relationship management and investment advisory, managing investment portfolios and serving the financial needs of ultra high net worth families across Asia for more than 15 years.
Over the years, family wealth planning has become increasingly complex with an overabundance of new investment products, strategies and structures. As a Family Office Advisor, Grace manages these complexities through her expertise in offering a holistic view with customised solutions.
Prior to joining Golden Equator Wealth, she served international clients during her tenure with Citibank, OCBC and DBS. Along this journey, she gained comprehensive knowledge and technical skills in multi-asset investment classes.
Leveraging on her extensive experience, Grace is able to effectively implement the family's investment strategy, provide timely and independent counsel to ensure the right solutions are applied to meet the family's objectives. Grace prides herself as a trusted gatekeeper, thoughtfully identifying issues to understand what each family requires and integrating them into the multi-family office structure. This includes advice in strategic areas such as legacy and succession planning.
In her spare time, Grace enjoys a good game of tennis and attending local cooking classes on her travels.