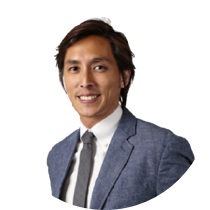 Joe Lin
Director, Investments
Previous Experience: Citibank, Royal Bank of Scotland
As the Investment Director, Joe brings to his role over 14 years of experience in investment and portfolio strategies, with deep expertise in equity analysis, custom indices, as well as structuring derivatives and dynamic strategies. He works extensively with our Family Office Advisors and high net worth client families on their portfolio construction and investment strategies to achieve their financial outcomes.
Joe graduated with double Bachelor degrees in Actuarial Science and Economics from The Australian National University.
Before joining Golden Equator Wealth, Joe lived in Hong Kong and Tokyo, covering institutional and corporate clients focused on investment strategies and product innovation across multiple asset classes, exposing him to working with international clients.
Outside of work, he enjoys basketball, travelling and an active lifestyle, which has seen him complete the Gobi March as part of the "4 Deserts Race Series" – a 250km 6-day trek across the Gobi Desert in China.