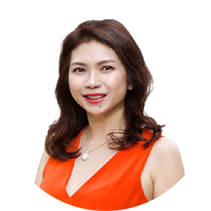 Shirley Crystal Chua
Founder and Group CEO
Shirley Crystal Chua is Founder and Group CEO of Golden Equator, a holding group of businesses creating value with the elements of Capital, Community, Technology and Learning.  
Shirley is known in the industry as a future-focused leader, who is committed to developing solutions for the future while focusing on grooming the next generation of leaders. Through the Group, she builds an innovation ecosystem that fuels meaningful connections, bringing different communities together to amplify opportunities for businesses. 
A serial entrepreneur, Shirley has also successfully co-founded each business and fund under Golden Equator, leveraging more than 20 years of experience in finance across private capital, venture capital, and wealth management areas and her natural flair in business building.  
Some companies she has created include a multi-family office Golden Equator Wealth; venture capital arm Golden Equator Ventures; personal finance literacy platform The Simple Sum; community-driven shared workspace SPECTRUM. 
A trusted UHNW family advisor turned entrepreneur-investor, Shirley is deeply involved in the start-up, entrepreneurship and finance communities. She is highly regarded as a seasoned practitioner in these fields and is often sought out by entrepreneurs, UHNW families and business leaders to share her insight.  
Since its founding in 2011, Golden Equator has grown within and beyond the finance industry, a testament to her strong business acumen in building agile and sustainable businesses. Shirley advocates for web3 as a mega trend and hopes to establish mainstream adoption of blockchain technology and distributed systems as well as elevate understanding of sound tokenomics, through the Group and its businesses.
A champion for diversity and inclusion, Shirley is also in the Financial Women's Association Singapore's pioneering batch of female champions. She invests in and is actively committed to helping younger female leaders and entrepreneurs as well as youth and NextGen initiatives, through performance coaching, leadership guidance, mentorship, and stretch project initiatives.   
Outside of work, Shirley has an adorable little munchkin and a passion for cooking and wine appreciation.  
Before becoming an entrepreneur, Shirley spent a decade with Citibank and American Express. While growing up as a young adult, Shirley spent seven years working with teenagers and young adults to help them cope with the challenges of their everyday life through counselling programmes.  
Shirley graduated from the National University of Singapore with a Bachelor of Arts and Social Sciences, majoring in Economics and Southeast Asian Studies.