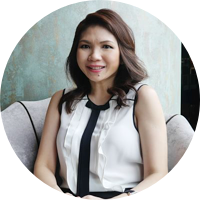 Shirley Crystal Chua
Group CEO
Previous Experience: Citibank, American Express
Shirley Crystal Chua is founder and CEO of Golden Equator, a group of independently managed companies covering fund management, business consultancy, a multi-family office, a fintech solution platform, and a technology and innovation business club.
In addition to founding Golden Equator, Shirley has successfully co-founded a series of businesses that include Asia Finance, a fintech solution platform, and SPECTRUM, a technology and innovation club.
Shirley also oversees Golden Equator's wealth management arm—Golden Equator Wealth. As a trusted advisor for ultra-high net-worth families and individuals for over a decade, she has successfully leveraged her extensive networks and vast experience in the wealth management sphere to master the art of business architecture.
As Founding Partner of the Golden Equator Technology and Innovation Fund, she utilises her proficiency in the private equity, venture capital and fund management arenas to provide astute financial forecasting, and business planning for companies at different stages of their growth. Her strong entrepreneurial track record in developing business strategies as well as successfully incubating new businesses has led to her opinions being sought out by professionals across various industries.
Since its founding, Golden Equator has grown within and beyond the financial services industry since its founding, a testament to Shirley's natural flair and aptitude for charting out the course of companies at different stages of their growth.
Deeply involved in entrepreneurial and startup communities, Shirley is highly regarded as a thought leader and proficient angel investor by both her peers as well as among industry experts. Always one to share her valued knowledge and expertise, Shirley participates extensively as a mentor and educator in various courses, conferences and events with an unwavering keen focus on innovation.
Shirley started her career at American Express International, before spending 8 years with Citibank across various positions. As a Director, she handled high net-worth clients from Asia and Europe, as well as mentored new bankers and supervised a team of experienced relationship managers. She also received numerous awards for her outstanding performance and contributions to the company, and was instrumental in the establishment of the bank's branch at Paragon in Singapore.
Shirley graduated from National University of Singapore with a Bachelor of Arts and Social Sciences, majoring in Economics and Southeast Asian Studies.
Outside of work, Shirley enjoys trying out new recipes in the kitchen and often unwinds with a glass of red wine over rich conversations with friends.